Posted by Tom Fornelli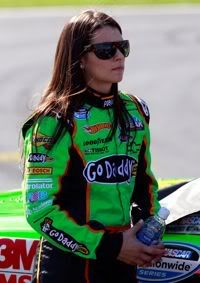 Whenever I've watched the
GMAC Bowl
-- and I watch it every year -- I can't help but think to myself "You know what this stellar matchup of teams from the MAC Conference and Sun Belt Conference needs? More stupid commercials with
Danica Patrick
in them. That would really put the whole ensemble together."
Well, I've finally gotten my wish. It was announced on Monday that GoDaddy.com would be taking over the title sponsorship of the GMAC Bowl in Mobile, Alabama, giving us the very first
GoDaddy.com Bowl.
Get excited, people!
"We're excited to have a powerhouse like Go Daddy behind Mobile's biggest event of the year," said
GoDaddy.com Bowl President Jerry Silverstein
.
"Go Daddy stepped up big time for this sponsorship, which is good for all of us. Our bowl holds the record for the highest-scoring game in college football bowl game history. We are looking forward to another marquee match-up."
My only fear is that while the first half of the game will be shown on television, they'll then force all of us to go online to see the conclusion, and when we do, we'll all be severly disappointed.