Posted by Adam Jacobi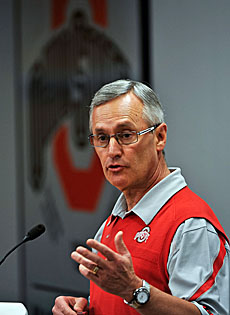 One would assume that Jim Tressel's days of coaching college football are pretty well over; he's the man at the center of an NCAA investigation at Ohio State, and he'll probably have a substantial show-cause penalty attached to his NCAA status after the Committee on Infractions metes out its punishment. For a 58-year-old coach, the prospect of not being allowed to coach college football for multiple years (with the show-cause penalty acting as a de facto ban) is tantamount to forced retirement -- or at the very least a significant and permanent step down in the level of jobs available.
Ah, but there's that other league out there, the NFL, one that doesn't concern itself with trivialities like eligibility requirements or the permissibility of gifts, and which certainly wouldn't turn down a coach with a history of NCAA trouble. That, then, is probably why Tressel -- alongside old rival Lloyd Carr, the former Michigan head coach -- attended a Cleveland Browns practice on Tuesday.
Tressel and Carr merely observed the practice instead of interacting with the players, with Tressel telling reporters he was attending as a fan (he and Carr were invited guests of the Browns, to be precise) but the coaching itch is hardly gone. When asked by a reporter if he wanted to coach again, Tressel responded, "I hope so. I'm taking it one day at a time."
While it would be interesting to see Tressel's transition from college football to the pro game, history says Tressel's chances as a head coach aren't particularly promising. Tressel's success at Ohio State stemmed from his ability to maintain an on-field talent superiority in nearly every game the Buckeyes played, and then Tressel's ability to exert said superiority as well as possible. That may sound like a backhanded compliment, but it's not; recruiting is almost inarguably the biggest predictor of success in college football, especially over larger and larger samples of time, and both Tressel's recruiting rankings and coaching record bear that fact out.
In the NFL, however, the head coach has significantly less control over the quality of player he's given relative to his opponents, if for no other reaosn than the parity that free agency and salary caps build into the labor system. Further, with Tressel 16 months away from his 60th birthday, the time demand of being an NFL head coach will only become even more of an unsustainable burden relative to his more youthful counterparts.
All of which is to say, it is exceedingly unlikely that Tressel will come close to replicating his OSU-era levels of success in the NFL. If the man still wants to coach, though, he ought to coach, sweater vest and all.