Posted by Bryan Fischer
Mark Emmert
, you have lost our confidence in your ability to do the job.
The next time you speak, we won't be able to take you seriously thanks to news that
Ohio State
would not face additional charges of failure to monitor
or lack of institutional control in the school's infraction case.
'It's all about what the
NCAA
can prove, not what we've read' is the company line. Well, you had a chance to prove things but
you said you weren't going to try
.
CBSSports.com
took a thorough look at cheating in college football, spending nine days chronicling just how rampant the rule breaking has been over the years. The purpose was the examine the subject with an eye towards where the sport was headed in the near future.
Senior writer
Dennis Dodd
ended the series saying Ohio State would be a landmark case going forward.
"This is what NCAA president Mark Emmert has been advocating, a way to make the cheaters and liars think twice about cheating and lying,"
Dodd wrote.
The president failed, however, to send that message Friday. Emmert has
called for tougher enforcement
numerous times since taking office and here, in front of a primetime audience, was his
Howard Beale moment
.
He could have sent a message that he was mad as hell and wasn't going to take it anymore. Instead, he lost what little confidence we had in "fixing" college athletics.
Dennis Thomas
, the chairman of the
Committee on Infractions
, said on a conference call earlier this month that the committee "was not in the business of sending messages."
Sorry to say it, but the NCAA's enforcement staff and the Committee on Infractions are in the business of sending messages.
They sent one loud and clear:
It's ok to cheat.
Blame it on the coach if you get caught. No need to monitor emails either.
But you better check on that house 100 miles away.
Emmert has talked about openness and a better understanding. The organization invited several members of the national media to Indianapolis for what they called the "
Enforcement Experience
."
The aim of it, as Vice President for Enforcement
Julie Roe Lach
explained to compliance officers from across the country, was for a good number of positive pieces and to remind everybody that the NCAA and the Committee on Infractions are separate.
Last I checked though, the enforcement staff reports to the president. If Emmert wanted to push for a message, a simple walk down the hall could have resulted in serious charges against Ohio State.
According to interview transcripts,
Jim Tressel
mentioned an email tip to school compliance officers but failed to mention what was actually in the emails. The compliance office - or anyone else for that matter - failed to follow up on this. Yet the NCAA enforcement staff said the school "followed up on tips it received."
The school said they only found out about the emails in January "due to an unrelated legal matter." Ask
Big Ten
commissioner
Jim Delany
though and he'll tell you it was due to a FOIA request.
Appears no one, not even one of the most powerful people in the country, could get an accurate answer from the Buckeyes.
At one point in an interview, Tressel told the NCAA that Ohio State
told him to get rid of documents
so they wouldn't become public record.
The folks at
Enron
are very impressed.
If the committee can nail
USC
based on a two minute, thirty-two second phone call, they surely could nail Ohio State with all that.
Ohio State was lauded by many as having a large and well respected compliance office. Yet both the NCAA and Ohio State agreed in December that their education efforts were inadequate. That was the basis for allowing the so-called "
Buckeye Five
" to play in the Sugar Bowl.
So Ohio State didn't do a good job at rules education in December but by July, according to the case summary, the institution "provided education to football student-athletes and staff regarding extra benefits and preferential treatment."
That statement was contradicted by the enforcement staff five paragraphs later by the way.
"The institution took monitoring efforts designed to identify the sale or distribution of institutionally issued athletics awards, apparel apparel and equipment," but somehow didn't know Terrele Pryor was
taking "whatever" he wanted
out of the equipment room.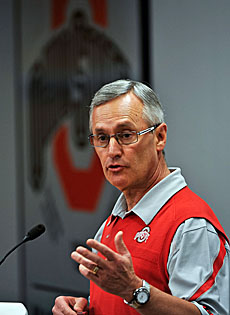 And let's not forget the school's treatment of their beloved "Senator."
"This is an individual that I have tremendous respect for," University president E. Gordon Gee said of Tressel on March 8. "He's had great success in working with young people and we applaud that. But I think equally importantly, he's had great success in building the character and reputation for this university, which I'm entirely grateful for. He's done so by example."
A few months later in the Buckeyes' self-report: "The institution is embarrassed by the actions of Tressel."
At least the flip-flopping when they're backed into a corner is consistent.
There's still one more chance for the organization to say enough is enough. The committee could add a failure to monitor charge or lack of institutional control charge following Ohio State's August 12th meeting with them. The committee did it with
Indiana
in the
Kelvin Sampson
case but has rarely done so. It can also choose to punish the school harshly despite the two serious charges, as it did with
Alabama
several years ago in the
Albert Means
case. They can also cite the enforcement staff for doing a bad job, which they have also done on occasion.
"I fully expect that every NCAA member institution be held to the same high standards,"
Pac-12
commissioner
Larry Scott
said after USC's appeal was denied.
But based on everything that's happened so far with Ohio State, does anyone expect them to? Athletic director
Gene Smith
was the recent chairman of the NCAA Men's Basketball committee. Gee was Emmert's boss years ago at
Colorado
.
And even if the committee did hold them to those same high standards set in the USC case?
"I'll be shocked and disappointed and on the offensive, Smith
told The Columbus Dispatch
. "If I don't agree, we'll do everything we can to battle it and go through the appeals process."
Don't worry Gene, you've already won. Sorry Mark, you didn't.
After all, actions, Mr. Emmert, speak louder than words.