Posted by Tom Fornelli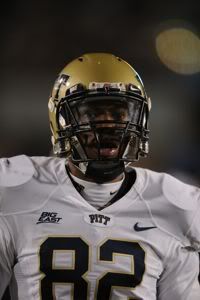 It seems that head coach isn't the only position that
Pitt
is going to have to replace next season. Now that
Dave Wannstedt
has resigned, it seems
Jonathan Baldwin
's decision about what to do next year has become a lot easier. Word was that the wide receiver had been leaning towards leaving Pitt for the NFL following his junior season, but now that he's faced with the prospect of having to play under a new head coach, that decision has been made a lot easier.
In fact, if you read what Baldwin told CBSSports' Chris Steuber, it sounds like
he can't get out of Pitt fast enough
.
Reached through text message Tuesday evening and asked if it was safe to say he would forego his senior year with Wannstedt stepping down, Baldwin responded, "No, it's not safe to say that. It doesn't change my quarterback!"
At first, it sounded as if Baldwin was non-committal on his future, but when asked, "Why would you stay [for your senior season] when you have no chemistry with QB Tino Sunseri, a new coach/system taking over next season and possibly hurt your draft stock for the 2012 draft, Baldwin clarified, "Oh, I misunderstood you ... Heck yeah I'm leaving. It can only get worse. They had me running a lot of deep routes [this year] and yards were hard to come by. I barely ran intermediate routes; it felt like they were purposely trying to disrupt my draft stock."
So to be clear, Baldwin has no problem throwing
Tino Sunseri
under the bus, and he believes there was a conspiracy theory amongst his own coaching staff to hurt his draft stock and get him to stay for his senior season. He should fit in perfectly with NFL wide receivers.
Baldwin has 52 receptions for 810 yards and five touchdowns this season.