Posted by Tom Fornelli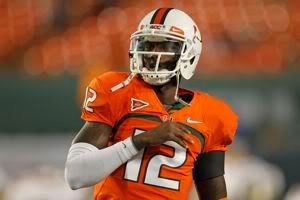 Well, it's another day of the week, which means it's time for your daily update on
Miami
quarterback Jacory Harris.
Harris got knocked out of the Hurricanes' loss to
Virginia
last week -- and if you haven't seen the hit, feel
free to check it out
-- and freshman
Stephen Morris
was
taking snaps with the first team in practice
this week. Still, the possibility of Harris returning to play against Maryland hasn't been completely ruled out.
On Wednesday
Randy Shannon
said t
hat Morris will start,
as Harris was held out of practice again, but he could play if he's able to return to practice on Thursday. Though Shannon doesn't seem too confident that's what will happen.
Shannon said that he "doubts [Harris] plays this week" and that there's a 75% chance that he won't.
Which means that Morris will be making his first career start against a
Maryland
team that has played surprisingly well so far this season. Though, to be fair, the Terps are 3-1 in the conference with those wins coming against
Duke,
Boston College
and
Wake Forest.
Not exactly the best the ACC has to offer. Though, considering how poorly the Hurricanes played last week after Harris left the game, this trip to Miami may not be that much tougher.