Posted by Tom Fornelli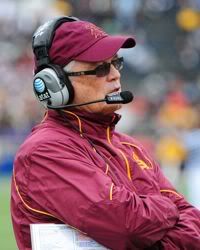 In the middle of September, the
Arizona State
Sun Devils were 2-0 and nearly beat
Wisconsin
on the road to improve to 3-0, and there was some reason to be optimistic about the team this season. Since then, however, things have started going downhill in conference play, where the Devils have lost three of the first four, including a 50-17 beatdown from
Cal
last week.
Which has led some at the school to wonder about the status of head coach
Dennis Erickson.
Particularly if he'll be back running the program last season should things continue to head the direction they currently are. Well, Erickson can either rest easy or start cleaning out his office, because Arizona State athletic director
Lisa Love
just gave him the dreaded vote of confidence.
"Yeah, I believe he will be (back)," Love
told the Arizona Republic.
"We have to evaluate at the end of the year, every year, but he's our guy. I've heard a lot of this talk about a hot seat. I think we have a football-wise fan base that are saying and understanding (that ASU's program is on the rise).
"I fully expect Dennis will be our football coach and my days are spent thinking about how to support this football program and get it to where we want it to be, which is a Rose Bowl-caliber program. And I believe we've got a guy who can get us there."
Notice how even in Love's vote of confidence she doesn't say that Erickson
will
be back, but that she
believes
he'll be back? Yeah, I wouldn't take that as a good sign. In other words, the Sun Devils may want to start winning some games, which is easier said than done. While Arizona State still has two winnable games at home against
Washington State
and
UCLA
this season, they also have trips to
USC
and
Arizona
along with a home date against
Stanford
on the schedule.
Erickson had success in his first season at Arizona State, as the Sun Devils went 10-3 in 2007, but since then they've gone 12-19 are in danger of missing out on a bowl game for the third straight season.